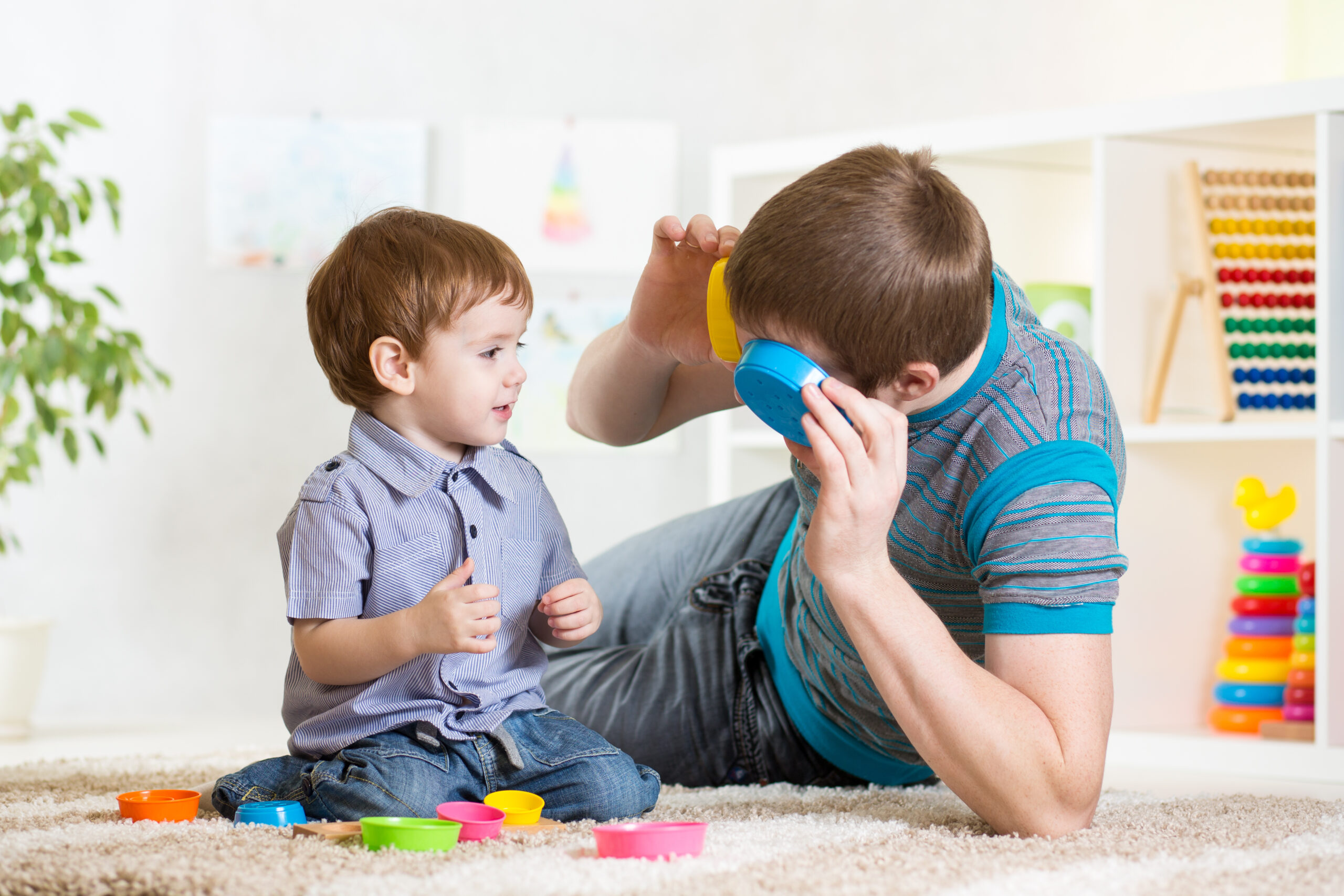 Interactive DIR – Floortime – PLAY
Building relationships through affect and emotionally playful interaction
Do you worry because your child isn't talking, making eye contact or responding to you?
Do you wish, someone could show you how to engage and play with your child, rather than searching for a diagnosis?
Are you looking for alternative more playful ways instead of the traditional behavioral approaches (like ABA, Applied Behaviour Analysis)?
D - I - R
stands for Developmental - I– Individual-Difference – Relationship-Based. The objectives of the DIR®/Floortime™ Model are to build healthy foundations for social, emotional, and intellectual capacities rather than focusing on skills or learning specific behaviours.
D – (Developmental)  
There are 6 basic functional developmental levels that form the foundation for all of a child's relationships and learning, with each level building on the next like a developmental ladder. (See Functional Emotional Developmental Levels, FEDLs, below)
I - Individual differences  
Each child is different with their own unique biologically-based ways of responding to and relating to the world, which needs our careful attention. 
R - Relationship-based  
A child's mind needs warm relationships with people who care and who tailor their interactions sensitively to the child's individual differences and developmental capacities to enable progress in mastering the essential foundations. Sometimes children need extra help to grow these mental-emotional skills without which other cognitive, social, emotional, language, and motor skills as well as their sense of self cannot reach its full developmental potential.
DIR is the Theory – Floortime is the Praxis.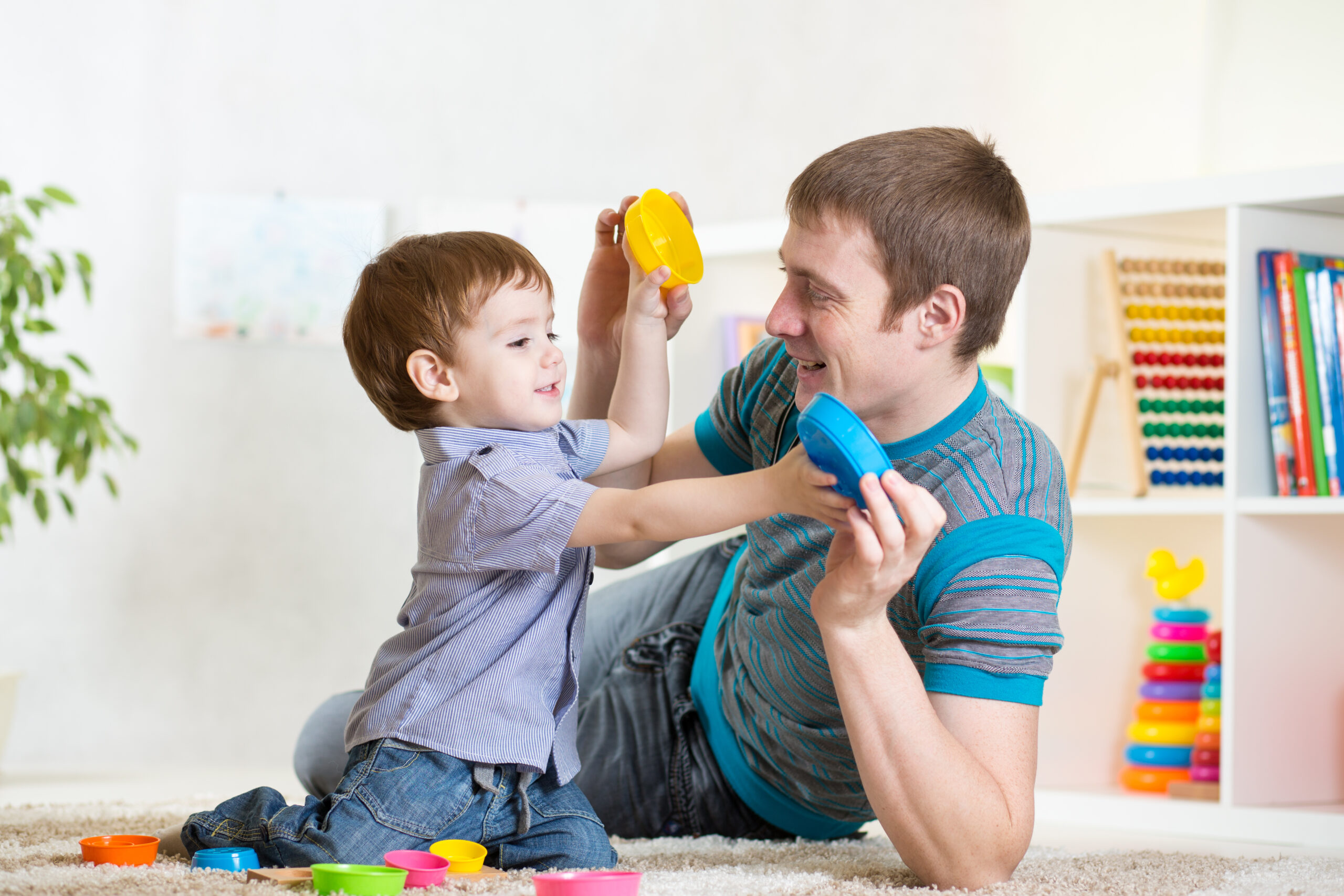 Floortime
describes the shared 1-1 play times with your child (often, but not necessarily on the floor) with relationship-building as focus and the adult attuning to the child AND a philosophy with a holistic picture of the human being with feelings and emotionality at its centre.
ATTENTION! Register here for the NETZWORK FLOORTIME training days on 27-28 January 2023 in Munich with the unique opportunity to meet and network with like-minded people!
What is DIRFloortime?
The DIR-Floortime approach as developed by Dr. S. Greenspan and S. Wieder, PhD is a positive, dynamic and playful approach that redefines autism as a developmental disorder with great potential for growth and change. It makes sense of its puzzling symptoms with the help of their universal model of mental-emotional development. Sometimes children need extra help to grow these mental-emotional skills without which other cognitive, social, emotional, language, and motor skills as well as their sense of self cannot reach their full developmental potential. You will find a lot more useful information on www.floortime.org
Floortime is a child-centred approach that focuses on building relationships through interaction and play. Floortime is a specific technique to both follow the child's natural emotional interests (lead) and at the same time challenge the child towards increasing mastery of his social, emotional and intellectual capacities. This means that the adult joins the child in what they are doing, rather than trying to teach the child what the adult wants them to do. In Floortime, adult and child aim to have fun together through playful interactions on the "floor" (hence the name 'Floortime'), or later through conversations and interactions in other places.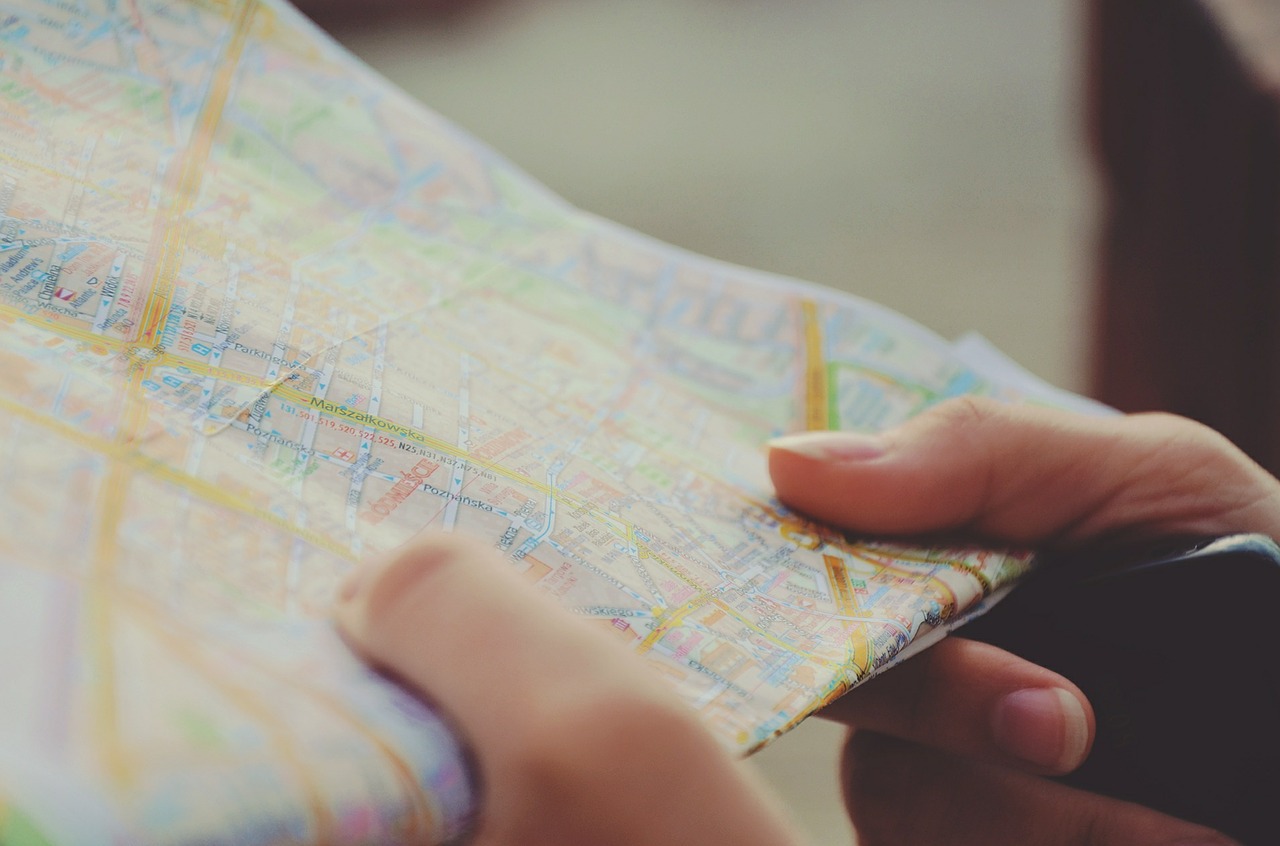 Understanding the 'Functional Emotional Developmental Levels or Capacities' that build the mind provides us with a direction for successful intervention. Its aims are not so much 'autism-specific' but the same as every parent would have for their child: increasing emotional engagement, warm relationships with others, communicating with gestures and talking meaningfully, and it maps out strategies, techniques and activities to achieve this.
Following the child's lead AND encouraging him to climb the developmental ladder at the same time
The basic building blocks for all development and learning, including language, are the child's interest and inner motivation to interact with the world and other people.
By following the child's natural interests, while challenging him to climb the developmental ladder by using affect and playful interaction through circles of communication, we guide the child to relate and develop his social, emotional and intellectual capacities.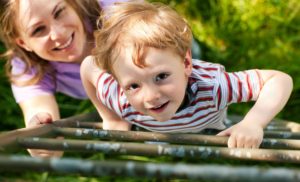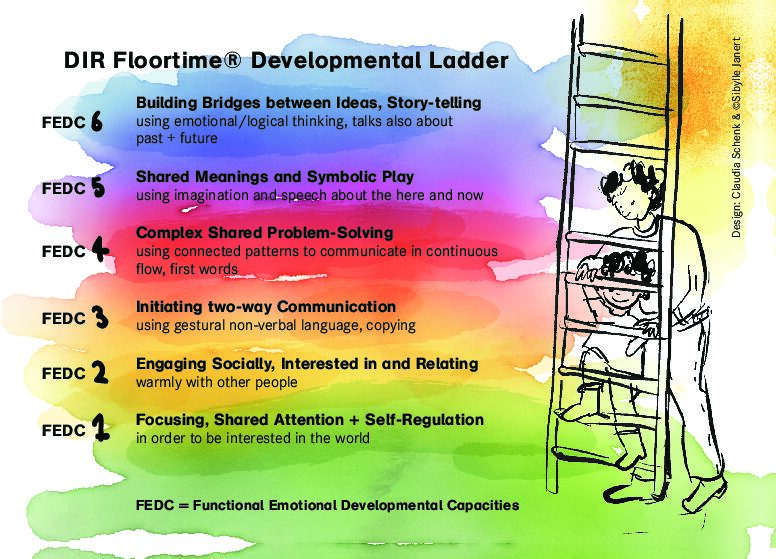 This picture of the Developmental Ladder is also available as handy POSTCARDS, so you can keep it easily at hand, in your pocket or on the fridge or share it with your child's teacher or nursery staff for reference. 
How is DIR-Floortime different from behaviour training like ABA (Applied Behaviour Analysis)?
DIRFloortime is a fundamentally different approach from traditional behaviour training methods (like ABA, Applied Behaviour Therapy) that aim at teaching the child certain skills through behaviour-training devised by the adult. The focus of the child-centred DIRFloortime approach, as first described by dr. Stanley Greenspan and his wife Nancy as well as his colleage Dr. Serena Wieder, is instead on the child's own emotional interests, his individual senso-motor profile, his unique processing capacities and his main relationships. The adult's individual profile, personality and responses to the child as well as the family structure also play an important role in supporting a child's development.
With such a positive, dynamic and playful DIRFloortime approach the idea of autistic behaviours or autism take on different meanings, i.e. as developmental delay or disturbance with excellent prospects for growth and positive change. With the help of identifying the developmental individual profile and FEDCs of each child in the context of his relationships, we bring light into the darkness of puzzling symptoms and behaviours. With this approach we aim to attune to the child with a genuine interest in his inner world of feelings in order to meet him exactly where he is, so we can support him to develop to the best of his potential and to climb the developmental ladder. The key is to lovingly accept the child the way he is and to recognise his strengths and interests, so he can use these as a base to work on his weaknesses and grow insufficiently developed capacities.
The aims of the DIRFloortime approach are not in fact autism-specific, but the same as any parent has for their child: better emotional relationships, non-verbal and spoken communication, meaningful activities and engaging with genuine interest with people and in the world around him. The DIRFloortime model also includes specific principles, strategies, techniques and activities to achieve these aims. After all it is relationships that are the foundation for all further cognitive, social, emotional, movement, language and learning as well as confidence and sense of self.